Colorado 2001
Day 1 - Denver to Estes Park
Via "Peak to Peak"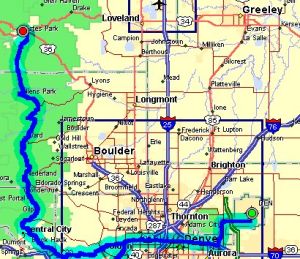 Pat, Judy, Ricky, Janice, and "Roo" flew in from Nashville. The guys unloaded the Harleys while the girls repacked for the trip. After resting and exchanging travel stories, we hit the road for a great ride from the Hampton Inn near the Denver International Airport to Estes Park. After a short stop in Golden we rode up Clear Creek Canyon to Central City, then up the Peak to Peak Trail to Estes Park. The road through Clear Creek Canyon is a good introduction to riding the Rockies as it winds along Clear Creek from Golden to near Central City. The road follows a crystal clear creek as it flows down the eastern slope of the Rockies toward Golden and the Coors brewery.

The "Peak to Peak" trail winds up the eastern side of the Rockies from Mt. Evans to Estes Park. The road to the top of Mt. Evans is the highest paved road in the country, maybe the world, at over 14,000 feet at its highest elevation. The ride up to Estes Park winds through Central City. Within weeks the discovery of gold in 1859, hordes of prospectors were swarming over the steep sides of Gregory Gulch, which soon earned the title ''the richest square mile on Earth.'' Today people still search for gold around Central City as it is home to a thriving casino business. We didn't stop to search for gold. Instead, we continued along the beautiful trail as it climbed toward Estes Park.

Estes Park: Pioneer Joel Estes settled in this mountainous vale around 1860, but the abundance of game had attracted American Indian tribes and Kit Carson and his group of trappers long before.
Most of the surrounding area is part of Rocky Mountain National Park. East of town on US 34 is picturesque Big Thompson Canyon. Estes Park, with its many motels and restaurants is an excellent staging area for visiting Rocky Mountain National Park.

We document the Peak to Peak ride with pictures. Judy and Judy pose while Pat stretches out on the sidewalk for a short snooze.

Ricky, Janice, "Roo".


Woody and Judy.


The next morning we decided to ride down Big Thompson Canyon to Loveland for breakfast. Big Thompson Canyon is a great ride of about 26 miles. The road follows Big Thompson River as it flows from Estes Park toward Loveland. What a great early morning ride! The canyon walls towering on either side of the road and the swiftly flowing river banking the highway. After breakfast we visited Thunder Mountain Harley-Davidson in Ft. Collins. After leaving Thunder Mountain, we rode back up Big Thompson Canyon toward Estes Park. Tough duty this!

The day began to warm as we rode toward Rocky Mountain National Park. A good excuse for a rest stop at a soda fountain in Estes Park.

Right: Roo attacks a strawberry shake. What, no sharing?