4 Corners '05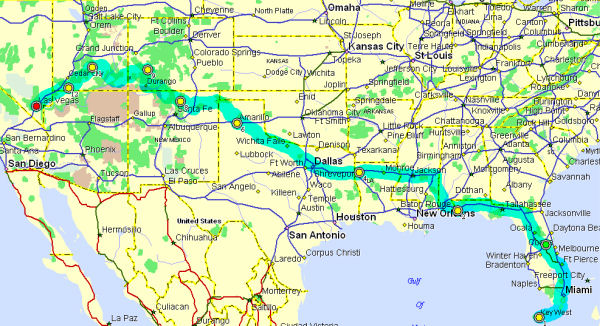 Orlando - Key West - Las Vegas
3,500 fantastic miles


Amarillo Texas Cadillac Ranch
10 Cadillac cars growing from the west Texas soil near Amarillo.

We stopped in Amarillo just as the a storm moved in from the north.
Thunder and a fantastic lightening show limited our choice of restaurants.

We decided to forego the "72 ounce steak"
at The Big Texan Steak Ranch, opting instead for
our third Mexican dinner in four meals!


Big Texan Steak Ranch
72oz. Steak Facts and Stats

The Big Texan Steak Ranch is famous for offering a free 72 ounce steak to anyone who can eat the steak, baked potato, salad, shrimp cocktail, and roll.

http://www.bigtexan.com/free72.html




The Texas Panhandle. Flat, straight road leads toward New Mexico and Taos. We were threatened by wicked looking thunderstorms once we turned west from Clayton, New Mexico. The rain hit just as we pulled into a gas station near Springer, New Mexico. As the rain began to subside, we pulled out of Springer and into warm New Mexico sunshine.




We were leaving the small town of Cimarron, New Mexico, when Roe hit his brakes and signaled a U-turn. As a young Boy Scout, he had attended the Philmont Scout Ranch. Memories came flooding back!



Eagle Nest Lake is located in New Mexico's Sangre de Cristo mountains in the Moreno Valley. It is surrounded by Baldy Mountain and Wheeler Peak, two of New Mexico's highest mountains. Eagle Nest Lake is known for its kokanee salmon and rainbow trout fishing and its ski resorts.